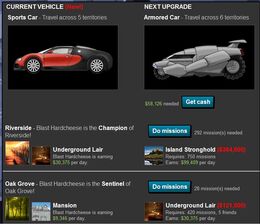 Purchasing Bases generates income for your Hero every 24 hours.  The higher level the Base, the more daily income generated.  As you advance in level, Bases will likely eventually become your single biggest source of income. 
Bases can be accessed by going to the "Bases" area of the "My Hero" tab.  Each Territory you unlock has its own series of bases for your to purchase.  You earn the right to buy an upgraded base by adding a set number of Friends and completing a set number of Missions in a given Territory, then paying the fee. 
Unlocking a certain number of Bases is also a requirement to increase your Achievement Rank. 
This series of Bases can be unlocked for each Territory.  You can't unlock a higher level Base without first unlocking the lower one.